E.J. Lowe Ferns British and Exotic 1856


Please click on each image to enlarge and for prices
Title Page
LOW2 $25
Title Page
LOW3 $25
Title Page
LOW4 $25
Title Page
LOW1 $25
Aspidium
LOW33 $39
Polypodium
LOW7 SOLD
Aspidium
LOW15 SOLD
Dicksonia
LOW45 SOLD
Polypodium
LOW8 $39
Diplazium
LOW43 SOLD
Aspidium
LOW37 $39
Deparia
LOW34 SOLD
Please click on each image to enlarge and for prices

E.J. Lowe Ferns British and Exotic 1856
We are very pleased to offer prints from the first edition of Ferns: British & Exotic by EJ Lowe, Esq. This lovely work was published in London, by Groombridge and Sons. From about 1855 on Groombridge was the principal publisher for the renowned Benjamin Fawcett, the greatest color printer of the 19th century. Fawcett pioneered a system of wood block engraving from multiple wood blocks that resulted in vivid finely colored works such as this marvelous book. This process was called chromoxylography (color wood engraving). A History of Ferns was Fawcett's first large project that was almost entirely color printed, with a little hand finishing.
Edward Joseph Lowe was an independently wealthy naturalist and member of the Royal society, who also published other works such as Beautiful Leaved Plants, in 1861 & A Natural History of British Grasses in 1862. A.F. Lydon was the artist and supervised the color engraving of the plates, & funding for the enterprise likely was provided by Lowe himself.
It is a comprehensive and beautiful work on ferns from all over the world. The prints are in excellent condition, with a superb elegance that lends itself to very contemporary as well as traditional environments. The paper is quite thick & creamy and each print measures approximately 6 inches wide by 9 ½ inches long, with a little foxing on a few prints as shown. The prints are accompanied by the ORIGINAL text whenever possible & a copy of the title page. Please review the photos carefully as they are very accurate. All our prints are guaranteed to be original antique prints and these prints are almost 150 years old.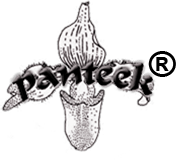 Copyright © 2015 Panteek. All Rights Reserved. Privacy Policy