Original Chromolithograph Prints from Linden


Please click on each image to enlarge and for prices
Stauropsis gigantea Orchid
LIN678 $75
Sale Price: $45
Peristeria aspersa Orchid
LIN689 $75
Sale Price: $45
Mormodes lawrenceanum Orchid
LIN681 $75
Sale Price: $45
Odontoglossum x Troyanofskyanum Orchid
LIN690 $75
Sale Price: $45
Schomburgkia tibicinis Orchid
LIN685 $75
Sale Price: $45
Coelogyne lurida Orchid
LIN697 $75
Sale Price: $45
Odontoglossum schlieperianum Orchid
LIN705 $85
Sale Price: $55
Masdevallia davisi
LIN706 $85
Sale Price: $55
Vanda spathulata Orchid
LIN707 $75
Sale Price: $45
Oncidium batemanianum Orchid
LIN693 $85
Sale Price: $55
Catasetum Imschootianum Orchid
LIN694 $75
Sale Price: $45
Oncidium varicosum Orchid
LIN695 $85
Sale Price: $55
Odontoglossum x Cirrho-Halli Orchid
LIN703 $85
Sale Price: $55
Cyrtopodium aliciae Orchid
LIN702 $75
Sale Price: $45
Odontoglossum cordatum Orchid
LIN698 $75
Sale Price: $45
Odontoglossum crispum Orchid
LIN712 $85
Sale Price: $55
Cymbidium eburneum Orchid
LIN713 $75
Sale Price: $45
Miltonia vexillaria Orchid
LIN715 $85
Sale Price: $55
Odontoglossum pescatorei Orchid
LIN709 $75
Sale Price: $45
Odontoglossum nebulosum Orchid
LIN699 $75
Sale Price: $45
Diacrium bicornutum Orchid
LIN700 $85
Sale Price: $55
Aerides fieldingi Orchid
LIN704 $75
Sale Price: $45
Cattleya loddigesi Orchid
LIN701 $85
Sale Price: $55
Odontoglossum pulchellum Orchid
LIN710 $75
Sale Price: $45
Renathera matutina Orchid
LIN682 $75
Sale Price: $45
Coelogyne asperata Orchid
LIN711 $85
Sale Price: $55
Please click on each image to enlarge and for prices

Original Chromolithograph Prints from Linden
During the time that Europe was in the grip of, which some orchid lovers might say has never passed, Belgium became a dominant force in the cultivation of orchids. Jean Linden (1817-1898) was a famed "orchid hunter" during this time, organizing many trips to hunt orchids in their native habitats all over the world, and importing back to Belgium over a thousand species. Similar to other great enthusiasts of the day, such as Conrad Loddiges in England, he founded a nursery in Brussels with the help of his son. Together, they published this superb work on orchids "Iconographie des Orchidees" in two parts. The first series of 10 volumes was published from 1885-1894 & the second series of 7 volumes from 1895-1901. Ref: Great Flower Books (1990) p160. We are currently offering a selection of prints from the first series published from 1885-1894.
As an orchid raiser, it is fair to say that some of these beautiful highly colored lithographs are almost larger than life. The colors are very intense & vivid, with the high quality heavy paper stock still quite white. Many of the plates are in pristine condition, as fresh as the day they were published, over 100 years ago.
Each print measures approximately 10 1/2 by 14 inches. Please review the photos carefully as they are very accurate. PLEASE NOTE: These prints are from the GENUINE ORIGINAL EDITION and are not later copies. The original descriptive text is included with each print.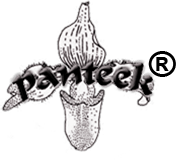 Copyright © 2019 Panteek. All Rights Reserved. Privacy Policy