While our images are electronically watermarked, the antique prints themselves are not.
L'Homme, La Femme Man & Woman BUZ203 $625
Each print measures approximately 11 inches by 17 ½ inches.
Born in Metz (France) in 1731, Buchoz was a physician & lawyer by training, as well as a passionate naturalist. He was physician to many prominent individuals, including the King of Poland, the brother of the King of France & the Duke of Artois. He was an enthusiastic and prolific publisher of botanical works including Herbier Artificiel, Histoire du Regne Vegetal, Histoire Universelle ou Collections Precieuse Colories. Early on, he recognized the significance of Japanese & Chinese drawing techniques, and was the first to publish drawings by Asian artists, a good century before the passion for the Orient overtook Europe.
It is from Les Dons Merveilleux et Diversement Colories de la Nature, that we are pleased to offer a selection of original engravings, in the characteristic exotic style so distinctive of Buchoz. These prints are all ORIGINAL copper engravings from 1782 with fine ORIGINAL hand coloring of particular vibrancy. Each print measures approximately 11 inches by 17 ½ inches.
The condition of the plates is excellent, with the paper being a fine, watermarked chain lined type with strong plate marks. There are no fox marks or other blemishes & the paper is a soft white, with vibrant hand coloring. The title of each print is inscribed below in an old hand. Les Dons Merveilleux is exceedingly rare, one of the rarest of the Buchoz works, and contains some of the most iconic images in the world of antique prints. A copy of the title page will be included with each print. These prints are nearly 240 years old. (References: Cleveland's Treasures from the World of Botanical Literature, 1998.)
We accept credit cards & PayPal. Florida state residents pay Florida state sales tax. Shipping for this item is $12.95. Items can be combined to save on postage. International shipping starts at $35 and buyers are responsible for all customs duties and fees. Our environment is smoke free. We pack professionally using only new materials, which can be reused. All items are beautifully wrapped and suitable for sending directly as gifts. You may return any item within 15 days if not satisfied. To order, you may call us at 1-888-PANTEEK, fax or email panteek@aol.com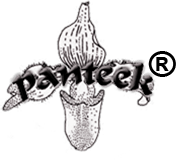 PANTEEK is a registered trademark