Elizabeth Blackwell Herbarium by Jacob Trew 1757


Please click on each image to enlarge and for prices
Red Coralline
BLA341B $165
Sale Price: $115
Helleboraster
BLA706 $135
Sale Price: $95
Keiri, Cheiri, Wallflower
BLA701 Reg. Price: $165
Sale Price: $115
Helleborus Hippocratis
BLA708 $135
Sale Price: $95
Herba Paris
BLA703 Reg. Price: $125
Sale Price: $89
Aconitum hiemale
BLA704 $135
Sale Price: $95
Aconitum Magnum
BLA70 Reg. Price: $145
Sale Price: $95
Chestnut Tree
BLA330 Reg. Price: $135
Sale Price: $95
White Turmeric
BLA399 Reg. Price: $125
Sale Price: $89
Arun Lily
BLA269A Reg Price $65
Sale Price: $45

Chickpea
BLA557 Reg. Price: $95
Sale Price: $65
Canola
BLA224 Reg. Price: $95
Sale Price: $65
Phytolacca Amaranthus Baccifer
BLA515 Reg. Price: $125
Sale Price: $89

Cataputia major et Ricinus
BLA148 Reg. Price: $125
Sale Price: $89
Oil Palm
BLA363 Reg. Price: $95
Sale Price: $65
Rhabarbarum finenfe
BLA600A Reg. Price: $95
Sale Price: $65

Solanum Hortense
BLA107 Reg. Price: $125
Sale Price: $89
Cordamomum minus
BLA585 Reg. Price: $145
Sale Price: $95
Sassafras
BLA267 Reg. Price: $125
Sale Price: $89

Bittersweet Nightshade Poisonous
BLA34 Reg. Price: $125
Sale Price: $89
Bardana maior
BLA117 Reg. Price: $125
Sale Price: $89
Dipsacus Silvestris
BLA50 Reg. Price: $115
Sale Price: $85

Orobus Venetus
BLA208 Reg. Price: $125
Sale Price: $89
Confolida media
BLA64 Reg. Price: $125
Sale Price: $89
Cyanus major
BLA66 Reg. Price: $125
Sale Price: $89

Suber
BLA193 Reg. Price: $125
Sale Price: $89
Holly
BLA186 Reg. Price: $125
Sale Price: $89
Hedera arborea
BLA188 Reg. Price: $125
Sale Price: $89

Cupressus mas
BLA127 Reg. Price: $95
Sale Price: $65
Sorbus Terminalis
BLA173 Reg. Price: $145
Sale Price: $95
Arbor vitae
BLA210 Reg. Price: $95
Sale Price: $65

Populus nigra
BLA248 Reg. Price: $125
Sale Price: $89
Betula
BLA240 Reg. Price: $125
Sale Price: $89
Carobe Siliqua
BLA209 Reg. Price: $125
Sale Price: $89

Gomboge Tree
BLA392 Reg. Price: $125
Sale Price: $89
India Berry
BLA389 Reg. Price: $125
Sale Price: $89
Belladonna Poisonous
BLA564 Reg. Price: $125
Sale Price: $89

Dragon Tree
BLA358 $125
Sale Price: $89
Muscus
BLA335 $125
Sale Price: $89
Dragon Tree
BLA358a $125
Sale Price: $89

Euphorbium
BLA340 $95
Sale Price: $65

Antique Euphorbia
BLA339 $95
Sale Price: $65
Eryngium
BLA297 $85
Sale Price: $55
Hypericum
BLA721 Reg. Price: $125
Sale Price: $89
Atriplex hortensis alba
BLA722 Reg Price $65
Sale Price: $45
Phytolacca Amaranthus Baccifer
BLA717 $135
Sale Price: $95
Hippoglossum Bislingua
BLA724 Reg Price $65
Sale Price: $45
Turnip, Rapum
BLA725 Reg. Price: $125
Sale Price: $89
Spina alba
BLA726 $135
Sale Price: $95
Please click on each image to enlarge and for prices

Elizabeth Blackwell Herbarium by Jacob Trew 1757
Elizabeth Blackwell was the artist and engraver of A Curious Herbal in 1737-1739, conceived to raise money when her husband was imprisoned for setting up in the printing business without serving the required apprenticeship. She recognized the need for a definitive herbal and began working close to the Chelsea Physic Garden, with its abundant gardens full of beautiful flowers and herbs. Unusual for the time, she also engraved and hand-colored her own prints single handedly instead of using the three separate craftsmen customary at the time - a botanical illustrator, an engraver and a painter. Elizabeth was truly a pioneer in every way, as Herbals were very rare at the time. Her husband helped from prison and the book was a financial success.
Elizabeth was able to obtain the release of her husband from prison, but sadly, he was soon in more trouble and was executed in Sweden in 1747 for high treason. Elizabeth died in obscurity in 1758. Her work of some 500 plates is a jewel of artistry and a testament to the fortitude, industry and entrepreneurship of a truly modern woman.
This work was reissued in enlarged form with re-engraved plates in Germany in 1757 by Jacob Trew, and it is from this folio edition of Herbarium Selectum Emendatum et Auctum that we are pleased to offer a selection of these marvelous antique prints.
References include Great Flower Books (1990), p.75; Women of Flowers (1990) p73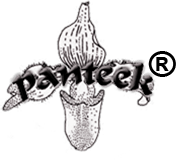 Copyright © 2018 Panteek. All Rights Reserved. Privacy Policy