Warner Orchid Album Prints 1882


Please click on each image to enlarge and for prices
Cattleya Trianae Formosa
WNR108 $165
Sale Price: $75
Laelia Amanda
WNR113 $145
Sale Price: $70
Cattleya Morganae
WNR6 $155
Sale Price: $75
Cattleya Mendelii, Grandiflora
WNR3 $155
Sale Price: $75
Laelia Amanda
WNR135 $145
Sale Price: $70
Cattleya Labiata Pallida
WNR121 $165
Sale Price: $75
Laelia Harpophylla
WNR117 $145
Sale Price: $70
Oncidium Forbesii
WNR104 $155
Sale Price: $75
Ada Aurantiaca
WNR53 $135
Sale Price: $65
Calanthe Veitchii
WNR31 $135
Sale Price: $65
Dendrobium Schneiderianum
WNR411 $155
Sale Price: $75
Oncidium Haematochilum
WNR32 $135
Sale Price: $65
Cattleya mendelii jamesiana
WNR203 $165
Sale Price: $75
Laelia amesiana
WNR204 $145
Sale Price: $70
Laelia elegans wolstenhomiae
WNR205 $135
Sale Price: $65
Chysis loevis
WNR210 $145
Sale Price: $70
Cymbidium lowianum viride
WNR200 $145
Sale Price: $70
Dendrobium moschatum cupreum
WNR208 $145
Sale Price: $70
Odontoglossum schlieperianum flavidum
WNR201 $145
Sale Price: SOLD
Sobralia xantholeuca
WNR213 $165
Sale Price: $75
Laelia albida sulphurea
WNR214 $135
Sale Price: $65
Lycaste gigantea
WNR218 $145
Sale Price: $70
Cypripedium schroderae
WNR219 $145
Sale Price: $70
Cypripedium insigne
WNR220 $145
Sale Price: $70
Cypripedium leeanum
WNR221 $145
Sale Price: $70
Miltonia spectabilis
WNR217 $145
Sale Price: $70
Cypripedium insigne punctatum violaceum
WNR223 $145
Sale Price: $70
Cattleya aclandiae
WNR227 $125
Sale Price: $60
Catasetum christyanum
WNR228 $125
Sale Price: $60
Cypripedium concolor
WNR229 $125
Sale Price: $60
Saccolabium violaceum harrisonianum
WNR230 $145
Sale Price: $70
Lycaste skinneri alba
WNR231 $145
Sale Price: $70
Angraecum kotschyi
WNR232 $145
Sale Price: $70
Comparettia macroplectron
WNR235 $125
Sale Price: $60
Pleione Humilis Tricolor
WNR413 $125
Sale Price: $60
Vanda Tricolor
WNR412 $125
Sale Price: $60
Please click on each image to enlarge and for prices

Warner Orchid Album Prints 1882
We are very pleased to offer a series of orchid prints from the first edition of Robert Warner and Thomas Moore's illustrious Orchid Album, Comprising Colored Figures and Descriptions of New, Rare and Beautiful Orchidaceous Plants, London: Published by B.S. Williams, at the Victoria and Paradise Nurseries, 1882-1897. The Orchid Album was illustrated by the master illustrator of orchids, John Nugent Fitch. His original drawings are in the Natural History Museum, South Kensington. References include Nissen BBI 2107; Great Flower Books,p.80; 187; Stafleu 6282.
Benjamin Samuel Williams' obituary recollects the intentions of this magnificent work: "In 1881 he commenced his magnum opus, the Orchid Album, which was projected with the idea of supplying a demand for illustrations of Orchidaceous plants, with botanical descriptions of the plants figured and notes on their cultivation.... Its appearance was hailed with great satisfaction in horticultural circles throughout the world, and it numbers among its subscribers nearly all lovers of Orchids and many of our leading and most influential horticulturalists."

As orchid raisers of many years standing, obtaining these prints was a powerful reminder of the almost overwhelming beauty and magnificence of the orchid family. It is very easy to understand the life long fascination that orchid lovers have for these plants. These are hand colored prints with some lithography and the colors are very intense and fresh. We have compared the prints with others that are available and the brilliance of the colors in this very RARE FIRST edition are unsurpassed. Each print measures approximately 9 1/2 inches wide by 11 3/4 inches long.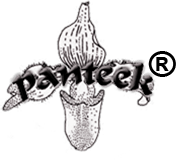 Copyright © 2019 Panteek. All Rights Reserved. Privacy Policy