1884 Roses et Rosiers Prints by E. Donnaud


Please click on each image to enlarge and for prices
Title Page, Rose List
RRD1 $25
Sale Price: $15
Title Page
RRD2 $65
Sale Price: $30
Title Pages, List of Most Beautiful Varieties, 24 pages
RRD3 $55
Sale Price: $25
Rose de Provins ordinaire
RRD13 $125
Sale Price: SOLD
Rose Duchesse d'Orleans
RRD24 $125
Sale Price: $65
Rose Lord Raglan
RRD15 $125
Sale Price: $65
Rose Madame Vidot
RRD20 $125
Sale Price: $65
Rose cent feuilles des peintres
RRD9 $145
Sale Price: $75
Rose Pie IX
RRD21 $125
Sale Price: $65
Rose, Reine des Iles de Bourbon
RRD10 $125
Sale Price: $65
Rosier multiflore a fleurs carnees
RRD39 $125
Sale Price: $65
Gloire de Dijon
RRD46 $115
Sale Price: $55

Rose Paul Dupuy
RRD28 $135
Sale Price: $67
Rose triomphe d'Amiens
RRD36 $115
Sale Price: $55
Trimpohe de Paris Rose
RRD27 $135
Sale Price: $67
Rose Francois Hevincq
RRD31 $125
Sale Price: $65
Rosa rugosa
RRD34 $115
Sale Price: $55
Rose Joseph Decaisne
RRD32 $135
Sale Price: $67

Rosier Banks epineux
RRD49 $95
Sale Price: $45
Rose de Banks a fleur jaunes
RRD44 $125
Sale Price: $65
Rosa viridiflora
RRD50 $65
Sale Price: $30
Please click on each image to enlarge and for prices

1884 Roses et Rosiers Prints by E. Donnaud
This delightful & rare work was published in Paris in 1874, and is a comprehensive survey by "horticulturist & amateur gardeners" of the roses of day, along with the history of roses, and very serious discussion of cultivation techniques. The goal was to produce definitive work on roses, handsomely illustrated by well know French flower artists of the day. These included Maubert, Annica Bricogne, Blanchard, Faguet, Rupalley & Grabowski.
The prints are in excellent condition, and is a superb record indeed of the roses of the time. The roses fill the pages and are all hand colored and drawn with breathtaking artistry. They are almost larger than life, and the envy of every rose grower and botanical print lover! The paper is a soft aged white and the colors very intense. Each print measures approximately 7 inches wide by 10 1/4 inches long. There is little foxing.
Each print is accompanied by the ORIGINAL text. Please review the photos carefully as they are very accurate. Enclosed with each print is the accompanying original descriptive text.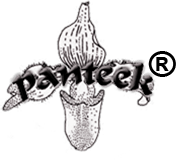 Copyright © 2015 Panteek. All Rights Reserved. Privacy Policy