While our images are electronically watermarked, the antique prints themselves are not.
MEIJ16 $35
Each print measures approximately 6 ½ inches by 9 ½ inches
These vivid woodblock prints are from the Meiji era, a turbulent and stunning time of modernization. In a quest to Westernize his country, Emperor Mutsuhito invited foreigners from the west to instruct the people of Japan. Meanwhile, thousands of Japanese students traveled to Europe and the United States. Artists were among those to experiment seeing through the Western eye, composing prints using traditional woodblock methods.
Each print measures approximately 6 ½ inches by 9 ½ inches. Some of the prints are highlighted with silver, and the colors are of the most vibrant hue, unusual even for woodblock prints.  They are magnificent sample designs for screens, murals, cloth decorations, kimonos and all sorts of other applications, and include flower ornaments, birds, butterflies, deer, bees, guinea pigs, swallows, skulls, a blackboard with colorful subjects, autumn leaves, plates, place settings, peacock feathers, and even tadpoles.
We accept credit cards & PayPal. Florida state residents pay Florida state sales tax. Shipping for this item is $8.95. Items can be combined to save on postage. Our environment is smoke free. We pack professionally using only new materials. All items are beautifully wrapped and suitable for sending directly as gifts. You may return any item within 15 days if not satisfied. To order, you may call us at 1-888-PANTEEK, fax or email.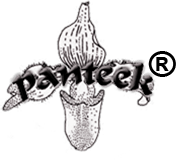 PANTEEK is a registered trademark