Tanigami Konan Japanese Woodblock Peony Series
from the Teiten (Imperial Exhibition) Rare, first edition, circa 1917


Please click on each image to enlarge and for prices
Full Margins Intact but not Show
TKP44 $495
Konan Imperial Peony Series
TKP45 $475
Konan Imperial Peony Series
TKP47 $475
Konan Imperial Peony Series
TKP49 $475
Konan Imperial Peony Series
TKP48 $445
Konan Imperial Peony Series
TKP50 $475
Konan Imperial Peony Series
TKP52 $445
Konan Imperial Peony Series
TKP46 $445
Konan Imperial Peony Series
TKP54 $425
Konan Imperial Peony Series
TKP51 $445
Konan Imperial Peony Series
TKP55 $425
Konan Imperial Peony Series
TKP53 $425
Konan Imperial Peony Series
Full Margins Intact but not Show
Please click on each image to enlarge and for prices

Original Tanigami Konan Japanese Woodblock Peony Series
from the Teiten (Imperial Exhibition) Rare, first edition, circa 1917
The Peony Series from the Imperial Exhibition - In 1917, one of Japan's famous naturalist artists, Tanigami Konan, was chosen to produce a series of beautiful peony prints for the Teiten (Imperial Exhibition). Because of the importance of this auspicious occasion, all of the traditional Japanese works of art were to be produced to the highest standards. The present peony series by Tanigami Konan was one of those selected traditional Japanese works. Konan designed and printed a lovely set of 20 peonies. Our beautiful prints offered this evening are from the first edition printing of these incredible Konan flowers.
These beautiful original woodblock prints are printed in an extra large format at 20 ½" x 14. They are very large for woodblock prints with spectacular images of peonies in bud and full flower. The background of the print is lightly coloured, with a little foxing and toning, sometimes darker at the margins. Each print was printed on two sheets, joined in the center, with slight color variation on some.
Unlike some of the smaller and more commonly produced floral subjects in the Japanese wood block print world, and in the botanical print world in general, these Tanigami Konan peony prints are large, exceptional, eye-catching designs that would make a beautiful traditional Japanese centerpiece in any room.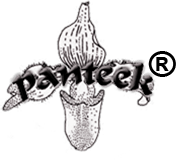 Copyright © 2015 Panteek. All Rights Reserved. Privacy Policy