While our images are electronically watermarked, the antique prints themselves are not.
Charlotte Pink DCF82 $95
Each print measures approximately 5 ½ inches wide by 8 ½ inches long
We are pleased to offer a selection of prints from The Compleat Florist by J. Duke with the frontispiece by John Carwitham, published in 1747. We are fortunate to have obtained this rare and wonderful work, only seen on the market a few times since 1950. There are one hundred hand-colored copper engravings, very much in the 18th century style. The compositions are charming, and the original period hand colouring very intense and bold. Each plate is inscribed in a wonderful copper plate writing with the season in which it blooms, description and growing habits. The first six plates also name the nursery that grew the plant.
These are authentic antique prints that are now about 266 years old. The prints are on beautiful chain lined paper, still quite strong and softly aged. There is almost no foxing, but please note that some have some have a little edge toning which will not interfere with framing. Each print measures approx 5 ½ inches wide by 8 ½ inches long. Ref: Great Flower Books, 1990, p. 70.
We accept credit cards & PayPal. Florida state residents pay Florida state sales tax. Shipping for this item is $8.95. Items can be combined to save on postage. International shipping starts at $35 and buyers are responsible for all customs duties. Our environment is smoke free. We pack professionally using only new materials. All items are beautifully wrapped and suitable for sending directly as gifts. You may return any item within 7 days if not satisfied. To order, you may call us at 1-888-PANTEEK, or send email to panteek@aol.com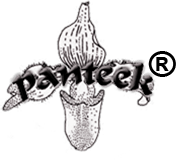 PANTEEK is a registered trademark