While our images are electronically watermarked, the antique prints themselves are not.
Garlic, Grape Hyacinth, Bluebell HIA38 $35
Each print measures approximately 10 3/4 inches by 8 inches
The wealth of talented artists in botanical illustration never ceases to amaze and Harriet Adams is another outstanding discovery. A member of the Botanical Society of the British Isles and a fellow of the Linnaean Society, she was a graduate of Birmingham Art School. She worked in the Arts and Crafts style, designing bookplates and a children's book: Little Red Riding Hood and the History of Tom Thumb.
As we know so little about her, but were astonished by the beauty of this work, suffice it to quote below part of an article published in 1907 by the Spectator (Archives):
"We have seen few flower drawings (always excepting Curtis's Flora Londinensis) that have given us so much pleasure to look at. From one to half-a-dozen plants are figured on a page; but Miss Adams manages to keep the character of each species distinct, and the grouping is often full of skill and grace. We have nothing but praise for the colouring, especially the various greens. The yellow of the rock-rose is beautiful, and the more subdued mauves and pinks are excellent."
Each print is vibrant color printed chromolithograph, measuring approximately 10 3/4 by 8 inches on high quality white paper in very good condition, with a few marginal defects as shown. The descriptive text is present for most, along with a copy of the title page. We are delighted such a selection from this beautiful botanical work.
We accept credit cards & PayPal. Florida state residents pay Florida state sales tax. Shipping for this item is $12.95. Items can be combined to save on postage. International shipping starts at $40, but may be more depending on the size of the prints and the country. Buyers are responsible for all customs duties. Our environment is smoke free. We pack professionally using only new materials. All items are beautifully wrapped and suitable for sending directly as gifts. You may return any item within 14 days if not satisfied. To order, you may call us at 1-888-PANTEEK, or send email to panteek@aol.com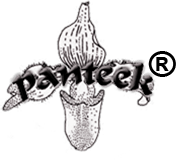 PANTEEK is a registered trademark